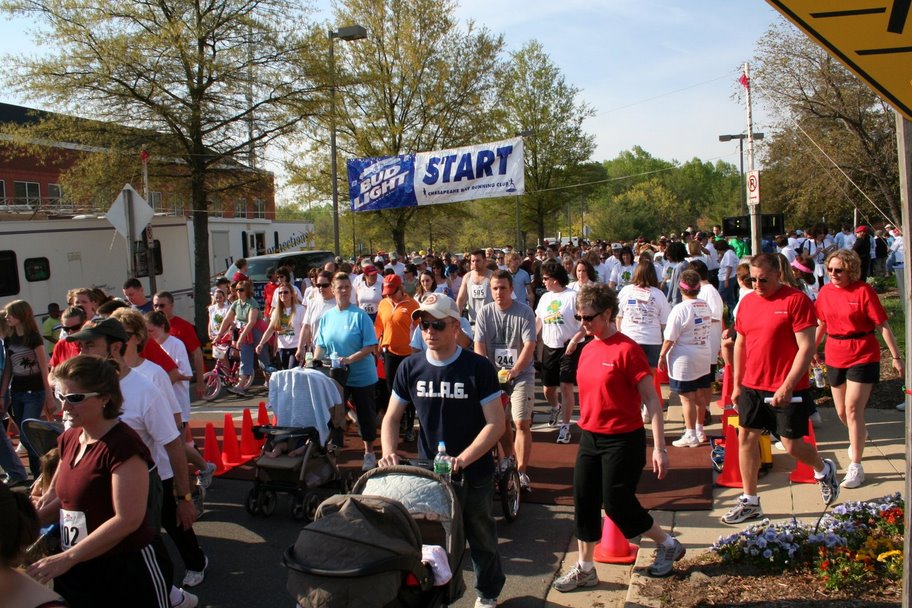 There are ③ ways to register
Registration
Race day registration $40, Children six and under free.
5K Run - 8:45am
One loop through the streets of beautiful and historic Leonardtown, MD.
Course subject to change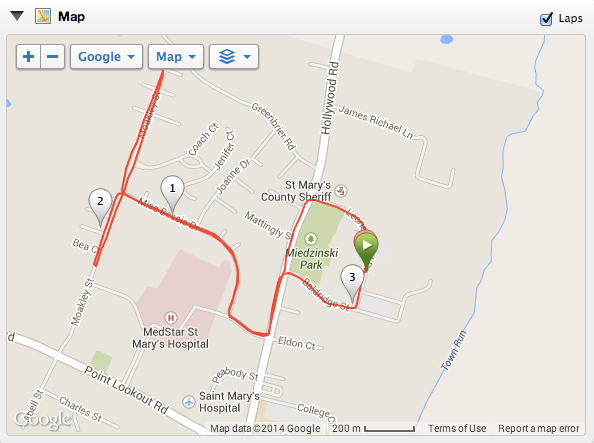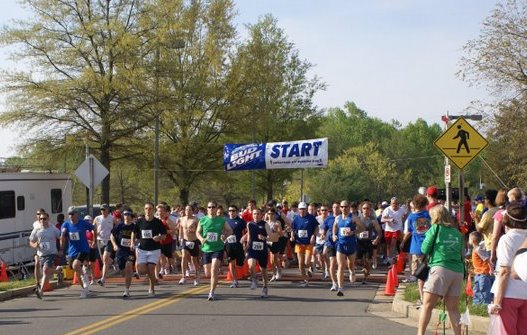 5K Run Turn by Turn Directions
Leave Start on Leonard Hall Drive
Left on Hollywood Road
Right on Doctors Crossing Way
Right on Miss Bessie Drive
Right on Moakley Street
Follow to end to turnaround cone
Stay straight on Moakley until the next turnaround cone
Right on Miss Bessie Drive
Left on Doctors Crossing Way
Left on Hollywood Road
Right on Baldridge
Left on Leonard Hall Drive to Finish
10K Run - 8:30am
One loop stretching around rural, country road course.
Course subject to change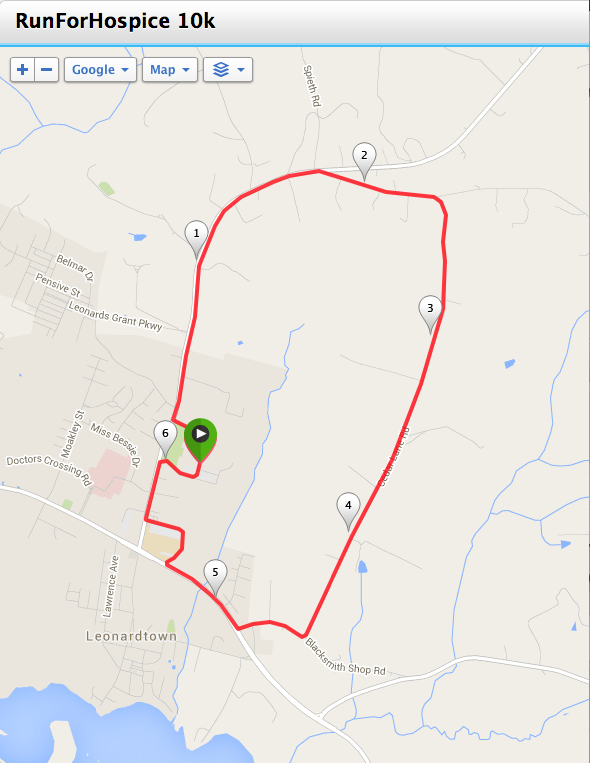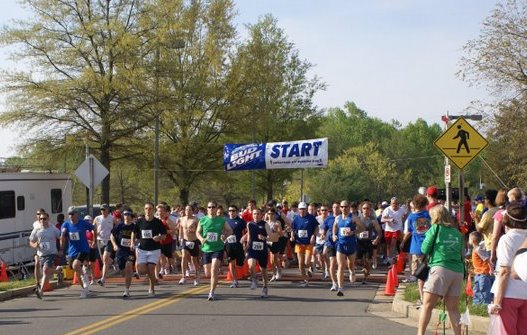 10K Run Turn by Turn Directions
Leave Start on Leonard Hall Drive
Right on Hollywood Road
Right on St. John's Road
Right on Cedar Lane Road
Right on Point Lookout Road
Right on College Circle
Right on Hollywood Road
Right on Baldridge
Left on Leonard Hall Drive to Finish
Fun Walk - 8:45am
One loop through the streets of beautiful and historic Leonardtown, MD.
Course subject to change
Course Map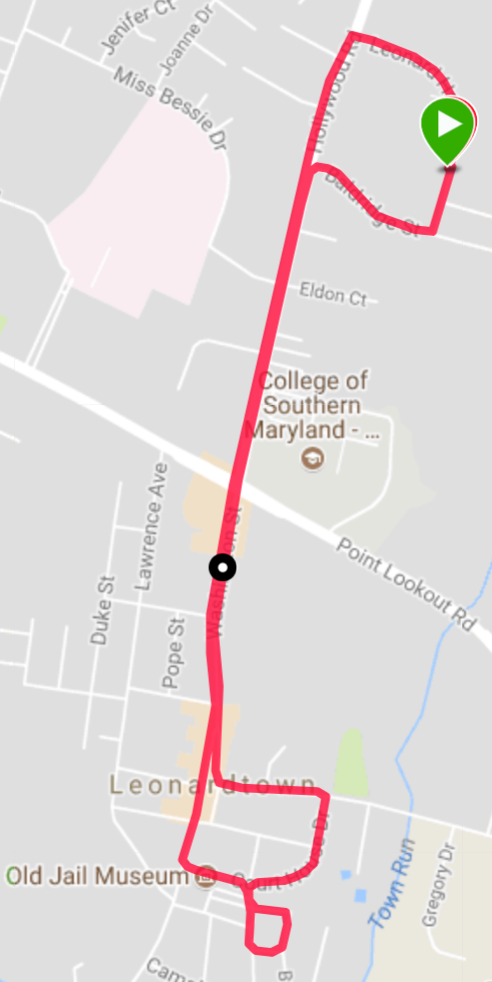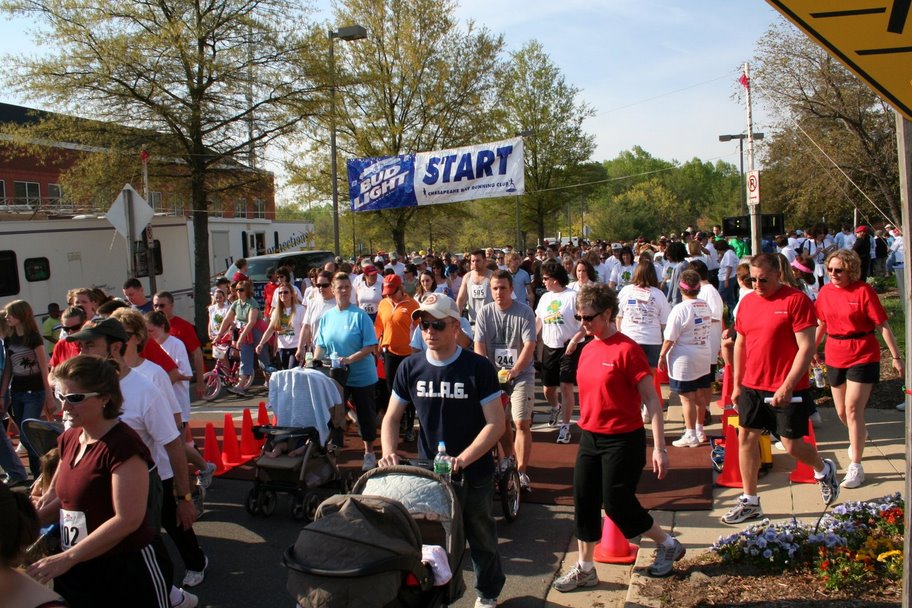 5K Walk Turn by Turn Directions
Leave Start on Leonard Hall Drive
Left on Hollywood Road
Continue Straight on Washington Street
Left on Courthouse Drive
Right on Camalier Drive
Left on Tudor Place
Left on Breton Bay Drive
Right on Camalier Drive
Right on Court House Drive
Left on Fenwick Street
Right on Washington Street
Continue Straight on Hollywood Road
Right on Baldridge
Left on Leonard Hall Drive to Finish
Defender's Cup
A 5K Run Team Competition.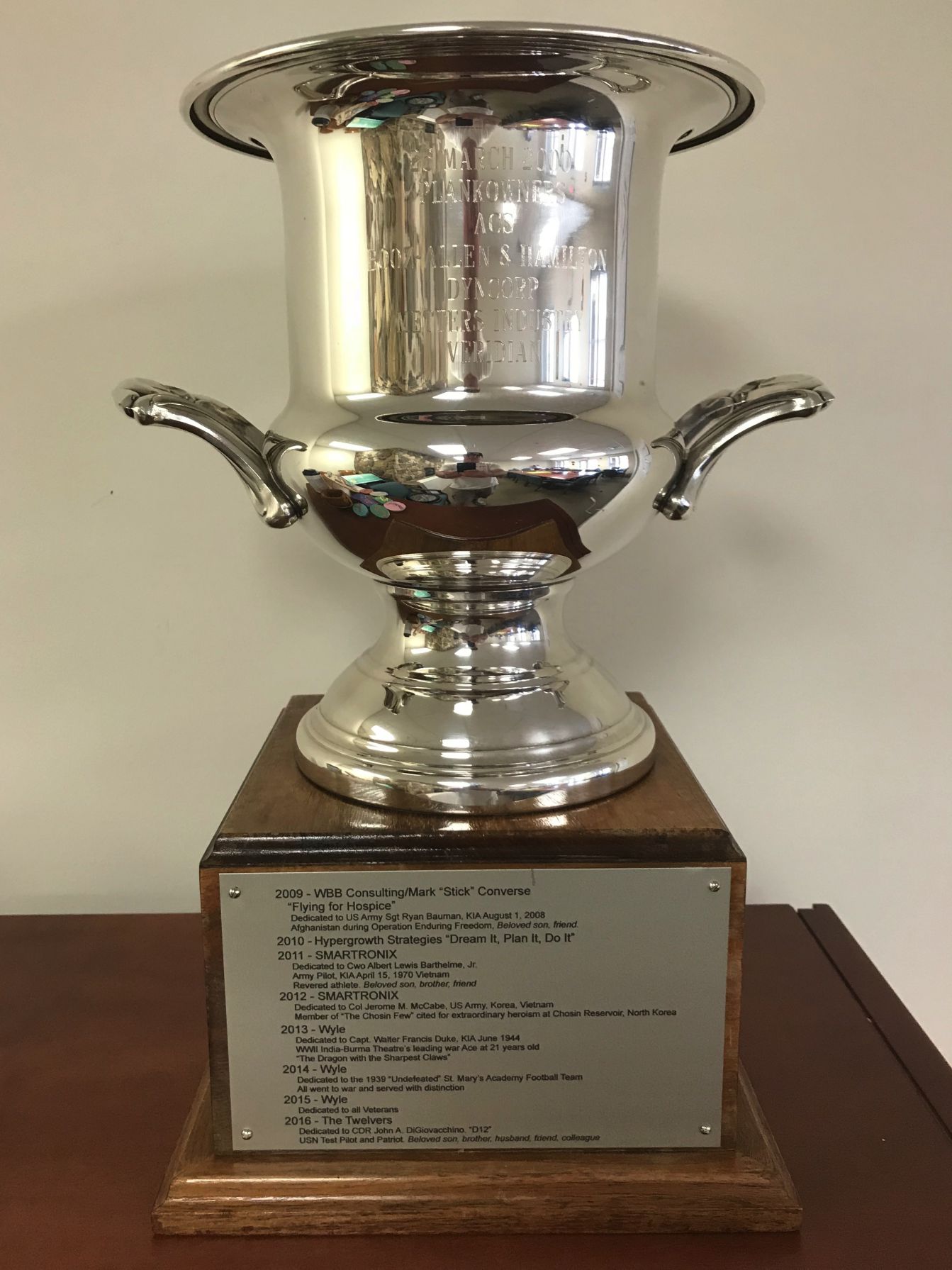 2023 Dedication - Albert Eugene Hayden
St. Mary's County Veteran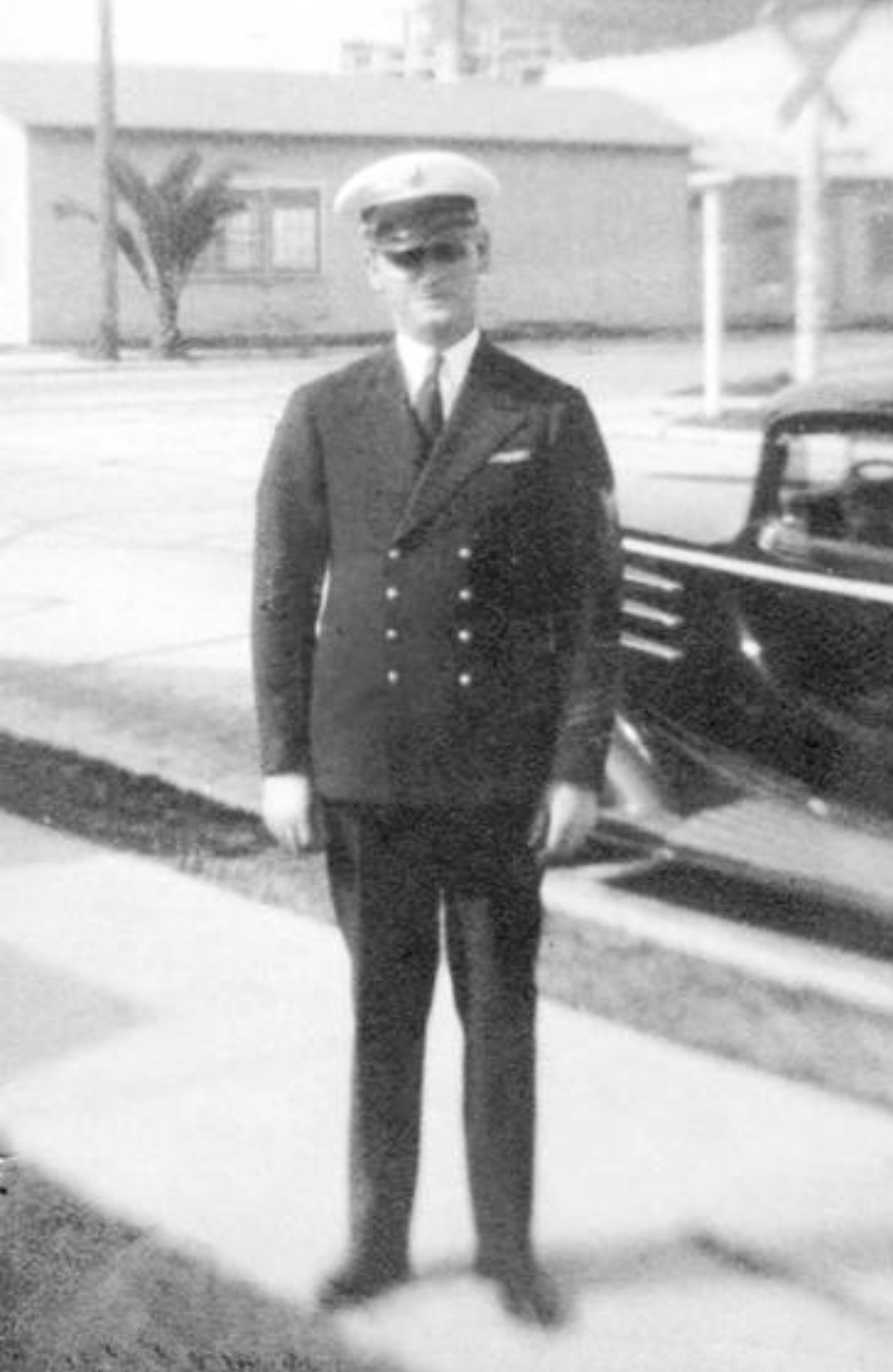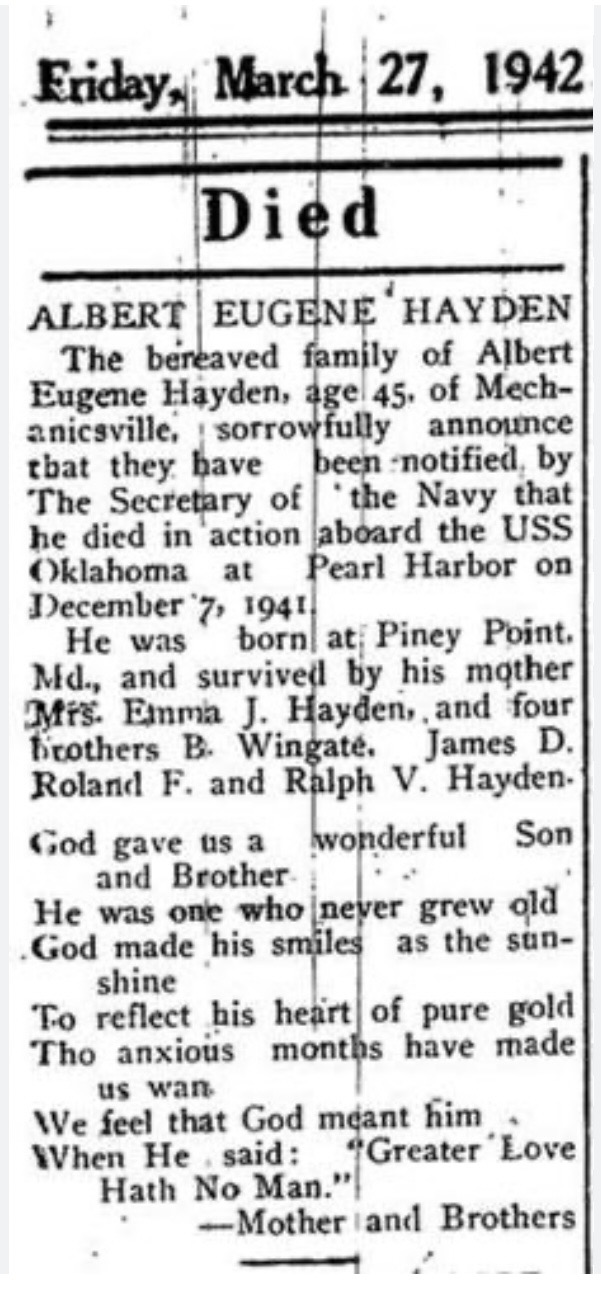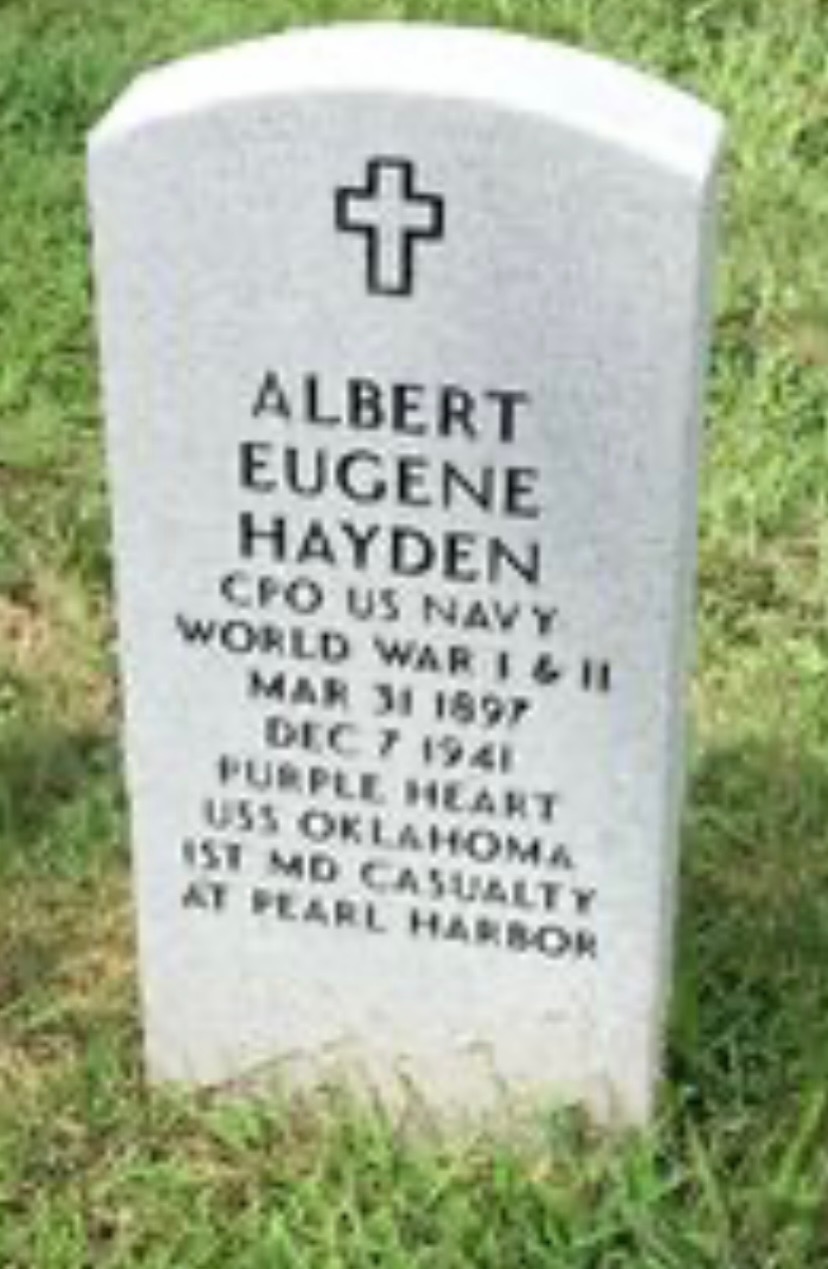 RunForHospice is honored to dedicate the 2023 Defenders Cup Trophy Competition to a St. Mary's County Veteran whose service spanned two World Wars. And a sailor Life Magazine would identify as the first Maryland casualty of WWII; Albert Eugene Hayden. On Dec 6 1941 Albert Eugene Hayden stood 5-feet-11 and weighed 190 pounds - a commanding presence with blue eyes and dark brown hair. At 44 he was still very much in his prime - an experienced & confident United States Navy Chief Petty Officer described by his shipmates as "robust" - living up to his nickname "Rouch". Serving his country as a sailor in the United States Navy was the best career in the world and the only life Rouch ever wanted. Born in 1897 on what was described as a spit of land between two rivers in Piney Point, he was one of five sons of James Dolor Hayden and Emma J. Hayden. As a child he was mesmerized by the water and the ships & vessels he witnessed upon it - imagining he was aboard them. Even at that young age the tidewaters of the Chesapeake had not only captured his imagination but were already part of his spirit & soul. Educated at Leonard Hall Junior Naval Academy & the Charlotte Hall Military Academy, he appreciated his teachers and believed they had well prepared him for his destiny which was officially realized on June 20, 1917 when he joined the Navy in Washington DC at 20 years old. With the United States entering World War I in April, Rouch was assigned to the USS Texas, a new battleship that would serve alongside the British fleet during the war. The Texas witnessed the surrender of the German fleet in 1918 and helped escort President Woodrow Wilson to the Paris Peace Conference.
Rouch was then assigned to the battleship USS Pennsylvania (BB-38) and served aboard the carrier USS Lexington (CV-2) before joining the Oklahoma in 1937. Rouch was Sailors sailor and as was tradition of sailors of the era his calling to the sea was tattooed to his flesh; his right arm displaying images of a sailors head & three nautical stars. For men who left the safety of their homes for life on the mysterious, powerful & perilous sea, tattoos were not fads, trends, hip fashion statements. They were deeply personal, sacred & spiritual occupational necessities; symbols of hope, protection, & superstitious importance; The star to help them navigate safely at night but perhaps more significantly the symbol of a sailor always being able to find his way home. The sailors head could indicate or represent having to leave loved ones behind, such as family, wives or sweethearts, destiny or accepting On Dec 7, 1941 353 Japanese aircraft were launched from 6 aircraft carriers in a surprise attack on the United States Naval Base at Pearl Harbor in the act 'that will forever live in infamy'. Commencing at 0748 am and lasting approx 1 hour and 15 minutes, 353 Japanese planes would devastate the defenseless fleet docked at Pearl. The first wave of 183 planes was led by 40 B5N2 torpedo bombers; though slow & vulnerable, they went undetected allowing their pilots & navigator/observers to calmly seek out the valuable battleship targets as if in a simulation or training exercise. Docked on the outside position of Battleship Row was the USS Oklahoma (BB-37). With her crew preparing for an inspection on Monday morning December 8, many of her watertight doors and hatches had been left open that morning leaving her completely vulnerable. At 7:56 a.m. she was hit by two torpedoes approx 20' below her waterline between smokestack and mainmast. Minutes later she was hit with a third that penetrated her hull. Her boilers punctured, she immediately began to list and when hit with two more she capsized - sinking within 11 minutes taking 429 of her dedicated American sailors with her. Among them Albert Eugene Hayden from St. Mary's County - the first Maryland Casualty of WWII. The sailor known to his brother shipmates as "Rouch". According to the Naval History and Heritage Command records The Oklahoma was partially salvaged in late 1942 and 1943. During the effort to ultimately salvage her she was sunk in a storm being towed in the Pacific Ocean in May 1947. During the salvage work, a mix of skeletal remains still aboard were commingled and buried in a mass grave in Hawaii. 1949, all of the remains were declared unidentifiable. They were bundled in military blankets and reburied in the National Memorial Cemetery of the Pacific, often called the Punchbowl, in Honolulu.
There, they rested until 2015 when 61 rusty caskets - many holding the remains of more than one sailor - were retrieved from 45 graves. Hayden's remains, wrapped in a military blanket, were among 10 such bundles in his casket. In nov of 2015 Federal officials announced they had completely disinterred all of the remains from the USS Oklahoma in an effort to identify all that are possible. In 2016 Rouch's remains were among 5 sailors positively identified. Seventy-five years after he gave his life at Pearl Harbor Navy Chief Petty Officer Albert Eugene Hayden's remains were laid to rest beside his parents - finally fulfilling the wishes, hopes & prayers of a heartbroken mother. Perhaps those stars helped Rouch find his way home after all.
Overview
A tribute to the men and women who work in support of our National Defense. A trophy sponsored by some of the Nations top Defense Contractors – companies that are committed to providing safety and security for our Troops and our Country in an unpredictable world.
Initially born out of appreciation of the Navy's presence at the Patuxent River Naval Air Station in Southern Maryland- since its inauguration the Defender's Cup competition has evolved into a popular and patriotic event competed for by both Military and Civilian teams from all over the region. The Defender's Cup honors and commemorates the hard work, sacrifice and commitment of the men and women who Protect our Liberty, Guarantee our Freedom, and Safeguard our Future.
The winning Team will have their name and year engraved on a plate which is permanently attached to the trophy. In addition, the winning team is allowed to hold the trophy for one year.
Rules
This 5K Run Team Trophy competition is open to teams comprised of either Active/Retired and/or Reserve/National Guard Duty Military personnel (Army, Navy, Air Force, Marines, Coast Guard) Department of Defense (DoD) Civil Servants, Defense Contractor Employees and immediate family members who are amateur runners. CAC, military identification, proof of employment and proof of identity for immediate family members will be required for application.
Teams must designate a Captains/POC who should contact the Defender's Cup Coordinator to register their team for the event.
All teams must have at least 4 participants and there must be (at least) 1 female member per team.
An organization may field multiple teams.
The winning team will be determined by the fastest mean time of the teams top four runners in the 5K run event (must include the female entrant's time).
5K Run Turn by Turn Directions
Leave Start on Leonard Hall Drive
Left on Hollywood Road
Right on Doctors Crossing Way
Right on Miss Bessie Drive
Right on Moakley Street
Follow to end to turnaround cone
Stay straight on Moakley until the next turnaround cone
Right on Miss Bessie Drive
Left on Doctors Crossing Way
Left on Hollywood Road
Right on Baldridge
Left on Leonard Hall Drive to Finish
Frequently Asked Questions
You have questions. We have answers.
Presenting Sponsors ($5,000)
Defender Cup Sponsors ($2,000)
Friends of Hospice ($500)
About
A brief history of the Run & Fun Walk.
1st March 24, 1996

Our Humble Beginnings

The 1st Annual Maryland Day Run & Fun Walk was held on Sunday, March 24, 1996 at St. Mary's Ryken High School.

2nd March 22, 1997

On The Move

The Run & Fun Walk moves to it's current location at the Governmental Center in Leonardtown.

3rd March 21, 1998

undefined

4th March 28, 1999

undefined

5th March 25, 2000

undefined

No Y2K problems here. Held on Maryland Day.

6th March 24, 2001

Saturday Evening Post

A new 10K run and a Norman Rockwell inspired logo for the 6th Annual Run & Fun Walk.

7th March 23, 2002

Our True Colors

2002 brought a patriotic theme as we remember the events of 9/11 and honor those who were lost.

8th March 29, 2003

Going The Distance

9th March 27, 2004

undefined

10th April 9, 2005

A New Spring

The Run & Fun Walk moves to April.

11th April 8, 2006

A Starfish is Born

The iconic Starfish logo makes its debut as the official brand of the Run & Fun Walk.

12th April 21, 2007

The Old Line State

Maryland flag inspired colors for this year's theme.

13th April 18, 2008

Lucky 13

Nothing but good luck for the 13th Annual Run & Fun Walk

14th April 18, 2009

Feeling Fit

Working harder, getting stronger.

15th April 17, 2010

A Banner Year

16th April 16, 2011

Golden Event

The 16th was held on the 16th. We celebrated by hitting the road.

17th April 14, 2012

Love Is All You Need

A Beatles inspired theme from the Summer of Love.

18th April 13, 2013

Award Winning

We thought we deserved a medal.

19th April 12, 2014

Carrying The Torch

Inspired by the Olympics we're going for the gold.

20th April 11, 2015

Hitting Our Stride

21st April 9, 2016

Viva Las Vegas

We got lucky with the weather but that's how we roll.

22nd April 8, 2017

Maryland Pride

Running for Maryland and St. Mary's County.

23rd April 14, 2018

A Wharf with a View

Celebrating Leonardtown's Scenic Waterfront

24th April 13, 2019

Solid Gold

25th April 23, 2022

Silver At Last

26th April 15, 2023

Moving Forward

Join us on April 15th for the 26th Run & Fun Walk.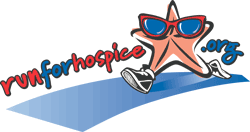 The Run & Fun Walk began in 1996 and has raised over $850K for Hospice of St. Mary's County. 100% of net proceeds benefit Hospice of St. Mary's in providing comfort, care and support of the terminally ill.
We are Southern Maryland's biggest and best running event featuring our "World Famous Brunch", music and fun. We welcome children, strollers/baby joggers and pets.
Your presence at this event will make a difference.
2023 In Memory Of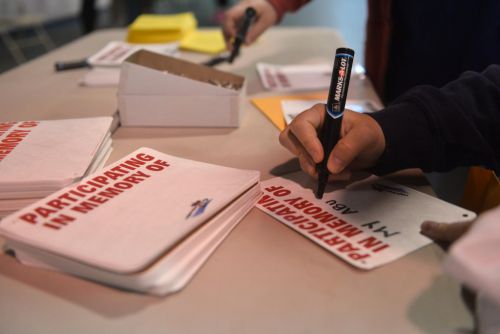 Beth Arnitz, Phil Mahan, Kerry Staats, Paul & Frances Bradburn, Patty West, Trevor Pitman, Mary Ann Shook, Mother, Sharon Marie Craddock, Norman F Foran, George W Lathroum Sr., Alex Shellhammer, John Blake "Pop", Paula Luskus, Edward Mahoney, Annette Marie Gisoldi & John Oberhausen, Mr. & Mrs. Forgarty, Joan Chick, Melinda Faye Gatton Kohn, MiMi, Lyle Johnson, Christina Kershaw, Jay Nam, Jack and Reba Frazier, Ronald Williams & Rose Cooper, Cathleen Mooney, Margaret Breck, Carl Lee, Ruby and John Blake, Evelyn Clark, Mary Ann Fischer, Gloria Tippett, Pat Cheseldine, Joyce Strup, Nace and Doris Mattingly, Richard Love, Pete Himmelheber, John Wayne Raley, C. Clarke Raley, Gladys Sheehan, Gail Godwin, Dickie Mattingly, Ashley RN, Becky Norris, Billy Norris, Patrick Wood, Sonny Hall, Mark Tuttle, Jacques Sebasky, Jacob and Pat Lorence, Mildred Weaver, Big Al Okie, Richard Owen, Paul Meinecke, James Colson, Kai Escalante, Jeff Osborn, Richard Owen and Paul Meinecke, Jerry 'Hal' Norris, Priscilla Simmons, Debra Jan Kitchens, Edna Boothe, Mary Jane, Ginny Yeatman, Arlene Campbell, Rita Abell, Margaret Lee, Bruce Caracaus, Ethel Holmberg Malone, Henrietta C. Garrow (Cathy), Pearlie Perkins, Jack Murphy, Ruby and Betsy, Elsie Woodburn, Charles Ball and William Ball, Ashley Wiggins, ALFRED AND TERESA TROSSBACH, Rick Lilley, Ginnyn Yeatman, Mary Christine Lloyd, Robert Morris, Peggy Wooten, Chip Nester, Gary Thomas, Sr., Ricardo E. Brown, Jean Kerkman, Donald Haynes, Ron Williams, Ms. Mary D Maddox & Ms. Virginia Brown, Curt Hamilton and Ransom Hanford, Theresa "Grammy" Granata, Teresa Spalding Sam Spalding Sr Sam Spalding Jr., Catharine Anas, Newell Stiles, Raymond Liebrecht, Prescott Ruff, Lillian Anderson, James Aubrey Mattingly Sr. and Grace Wathen Mattingly, Patsy Cheseldine, Sharon Weiner, Carolyn & Ronald Corrigan, Patti Shade, Gertrude Norris, Pat Norris, William Ball, Keith Fretwell, David Raulerson, Marva Glover, Clara Rosetta Joy, Dorothy Valentine, Sonny Bartz, Ronnie Evans, Alan Dean, Bonnie Howery, Margaret Henderson, David M. Darlington Sr., Carroll G. Alvey, Dave Hicks / Nancy Baird / Vick Baird, Billie Brewer, Billie Morrison, Pops Eckardt, Jeri Cloutier, Harvey McElhenny, Parthenia Smith, Marsha Lanham, Charles & Emily Latham, The Family of Ondras, Nelson and friends, Ruth Reynolds, Leroy Williams, Debbie Thorne, John and Peggy Burke, Don Antonacio, Robert Oliver, Peter Himmelheber, Frances Freeman, David Raulerson, Don Green, Leo & Virginia Raulerson, Janie Lyles, John Goewey, Family Member, Rita McWilliams, Peter Visser, George "Chubby" Stewart, Jr., Phyllis Albright, Margaret & Elmo Bates, Erma Anderson, Letha Creech, David Sherman, Sandy Stayrook, step dad jimmy mills dad mike shall, Sophie Turbush, Sofie Turbush, David Beavan, Melinda, Raymond Johnson, Stew Highberg, Robert Whitlock, Margaret Currie, Scott Lawrence, JULIA MAE OWENS, Regina Price Monarchy, BJ Waldron, Jamie Farrell, Mary Farrell and Emah Reynolds, Sally Wise, George Kramer, Howard Addison Mattingley, Dave Hicks, Nancy, Marianne Duepner, Joanne McGilloway, and Chris Juron, James C. Briscoe Sr., Phyllis Lange, Sam & Teresa, Sam Jr. & Karen Ann Spalding, Helen Foster, David Raulerson, Leo Raulerson, Virginia Raulerson, Frances Freeman, Evelyn Laudenberger, Dr. William Brown, Richard "Rick" Crim, Retired MAJ Charles H. Simpson II Vietnam Vet, Sean DeWolfe, Sonny Bartz and Sara Davis, Kathy Amos, Ricky Swann, Donna Rollo and BJ Waldron, Mary Ruth and Ralph Bowles, Lauren Weller Sidorowicz, John P Blake & Angela "BooBoo" Long, Blanche Laungayan, Michele Del Pilar, Grandpa Wood, Louis Morgan, Nancy Peacock, Bobby Lacey, Jimbo Spalding, Jimbo Spalding, Bobby Lacey, Dotty Broun, Lena Calvert, Evelyn Page, My Mom and Dad, Kay and Eugene Tennant, Andrea Thompson, Lo Ely, sofia Turbush, Liliane Jarboe, Donald Green, James Harrigan, Frank Riege, Diane Trossbach, Raymond F Sanderlin SR, Bill Franklin, Alex Shellhammer, Steve Shellhammer, Monica Goodreau, Sandy Thawley, Polly Abell, Hazel Thomas, Eugene Moats, Earle and Selma Fritz, Andrew Rennie, Ed Dishman, Mary Ruth Bowles, Sandy Mahoney, Shirley Willett, KIMBERLY TAYLOR, James V. Higgs, Ann R. Jones, Kathryn Chaky, John chase, Jillian Steele, Sarah Filloramo, Kathy Moore, Adalgisa Ceresa, Barbara Goode, Sofia Turbush, Jimbo Spalding, Sam Jarboe, Janice Moneymaker Groves "Granny", Mark, Belinda Dorsay, Ann & James Alfiere, John and Mary Grambo, Sammy Morgan, Bill Lloyd and Delores Nowak, Sam, Sam Jr. and Teresa Spalding, Sofie Turbush, Wesley Eckman, Jimbo Mike Grandma Wathen Nonnue, Mom, Teresa Spalding, Sam Spalding, Sr, Sam Spalding, Jr., Melba "Granny" Carter, Margaret Pruitt, Bobby Carter, Theresa Granata, Jamie Bacon, Sherry Crook, Stewart Otta.& Mary Peters, Susan and Edward Strock, James "Pop" Colson, Andrew J Quade, Margaret Crumbley, Ann Weil, Bill Lloyd, James Concannon, Jimbo Mike Dorothy, Anita Lewis, Ann Kalmus, Joyce/Alfonso/Beth, Lois Abell, Barbara Verdel, Rainey Voellinger, Jim Harrigan, My Veterans Brothers who were KIAs in Viet Nam, Bill & JoAnn McLellan, Barbara & Merle Voithoffer, Benjamin Johnson, Kimberly taylor, Allie Raley, Bannister's, Klondike Basta, Mary Ann Bean, Mike Carroll, Marlene Norris, Becky Norris, Beverly Lewis, DaDa, Harold Pevey, Paula McNutt, Pastine Cole, Teresa Snively, 
Our Amazing Volunteer Team
Figuring it out as we go...
Emily Cantrell-Stagner

Jim Dicus

Brook Fallon

Laurie Lawrence

Aaron Okun

Jennifer Overstreet

Jeff Thomas

Jamie Thomas

Jeannette Wolter
You can check out any time you like, but you can never leave...
Contact Us
We'd love to hear from you.